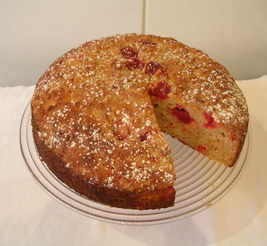 Rhubarb & Strawberry
Definitely moist and delicious cake. Blends the sweet strawberry with the slight tart taste of the rhubarb. An English cobbler classic made into a cake!
Made with ground almond, maize and rice flour.
The cake is 9" and serves 12 .
Please note that our cakes are only available for pick-up or local delivery via courier.
When ordering, please specify the day and time you would like to pick up your cake and we will confirm via e-mail.